< Back to blog
Whether you're a vegetarian, flexitarian or experienced vegan, we hope some of these recipes will inspire your household to eat plant-based this Veganuary and beyond.
The following vegan meals are easy to make, packed with nutritional goodness, and most importantly, delicious!
Vegan recipes to fuel your day
Easy vegan breakfast ideas
Breakfast is one of the most important meals to get right, and the perfect place to kick-start your day. A good meal early on in the morning can get your family's metabolism going, meaning you're more likely to burn calories later on in the day. It will also help keep energy levels high throughout the day, helping you all focus and achieve more.
If you want to find out about some more healthy habits to build into your routine, you should check out our blog on 10 Healthy Habits You Have to Try.
Delicious vegan brunch with Gosh!'s veggie sausages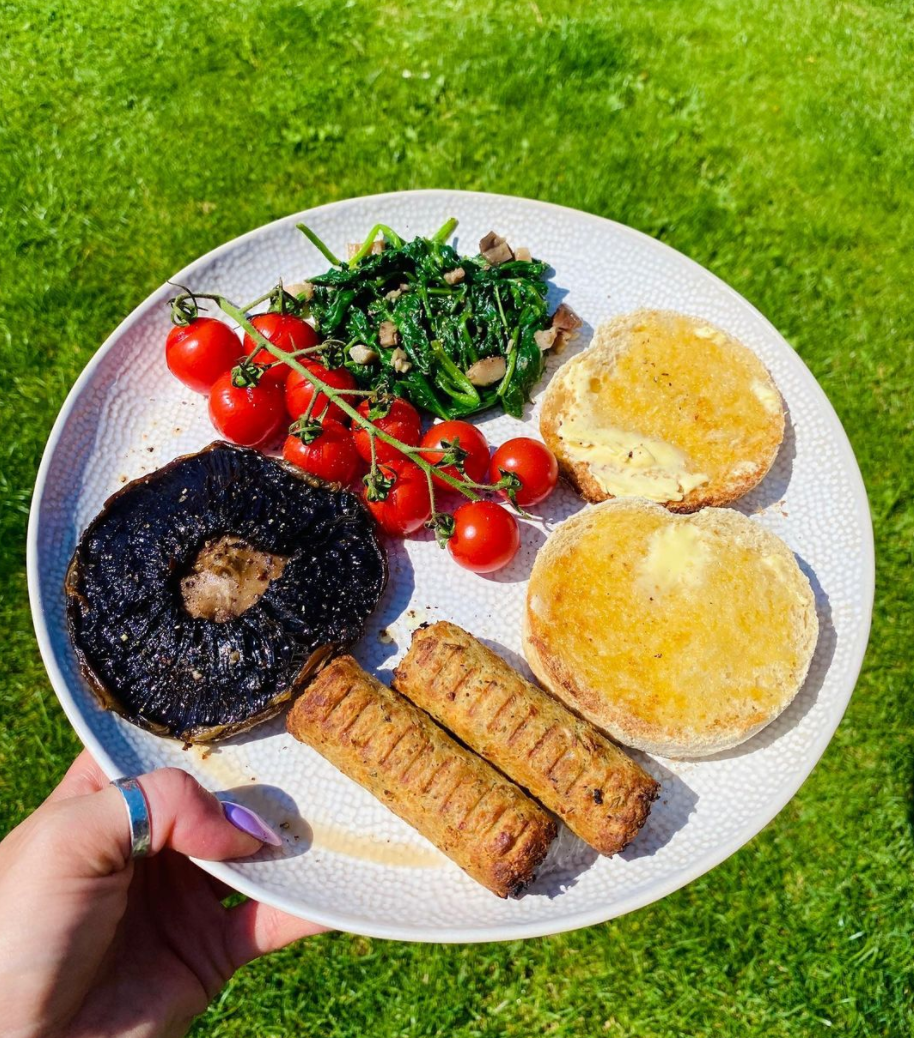 At Gosh! we love posting meal ideas from ourselves and our community. We recently shared a recipe for the perfect vegan brunch using some of our own veggie sausages. We'll include the ingredients and method below, but if you get stuck, head over to our Instagram for a step-by-step video. You will need:
2x Gosh! Veggie Sausages
1 Large Flat Mushroom
Vine tomatoes
Handful of Spinach
1 English Muffin
Olive Spread
1 tsp Coconut Oil
Olive Oil
Salt & Pepper to taste
Method:
Preheat your oven to 180 degrees Celsius.
If you are cooking the Veggie Sausages from frozen place them in the oven for 5 minutes first (if not you can pop them in the with mushroom).
Remove & set aside the mushroom stalk, coat it in a little olive oil & pepper & pop into the oven for 12 minutes.
When you have 5 minutes left, pop the vine tomatoes in too!
Place the spinach in a frying pan to wilt with a little coconut oil, we like to chop the mushroom stalk and at that to the mix to avoid food waste!
Toast your muffin & spread with a little olive spread.
Remove everything from the oven & arrange your plate.
If you want to know about more vegan recipes and regular top tips, you should give us a follow over on our Instagram, Twitter and Facebook. We'd also love to hear from you if you have any recipes or tips on vegan living you'd like to share.
Vegan banana pancakes
We all fantasise about fresh pancakes in the morning from time to time. Unfortunately, many of the normal and even vegetarian recipes out there incorporate milk and eggs, not suitable for the plant eaters among us. Below is our vegan version of tasty banana pancakes, they're sure to go down a treat with the family. This recipe serves roughly 4-6 people and you'll need:
75g plain flour
1 tsp baking powder
1.5 tbsp golden caster sugar
200ml can coconut milk
vegetable oil, for when you fry your mixture
1-2 bananas, sliced
Vegan chocolate chips (a treat, not a necessity!)
A pinch of salt
Crushed cashew nuts
Method:
Sift your flour and baking powder into a good sized bowl.
Stir in your sugar and a pinch of salt.
Stir your milk slowly in with the flour mixture to create a smooth batter. Alternatively, you could use a blender for quicker results.
Heat a frying pan at medium heat and brush with oil.
Use 2 tbsp of the batter for each pancake, the amount of pancakes you can make at anyone time will depend on the size of your pan. We recommend 1-2.
Whilst the pancakes are cooking, add slices of banana into each one and cook until it bubbles (roughly 1-2 minutes).
Once the top of the pancakes are bubbling, flip them over and cook the other side for a minute.
As they are not egg based, they are more easily breakable, so be careful as you turn them over.
Finish by adding vegan chocolate chips, cashews, remaining banana slicesor anything else you so desire!
Repeat until your mixture is gone.
Vegan lunch ideas
Lunch time is a tricky one to get right. For most of us, the reality is we need something quick and easy to wolf down at work, school or on the move. Even though we're in a rush, we still need to make an effort to consume something that will contribute positively to our diets.
At Gosh!, we love a meat-free lunch box, and encourage our customers to share their healthy selection of goodies with us. Our products are perfect for filling your tupperware, with snack bites, veggie cocktail sausages, Moroccan falafel and much more on offer. Here are a couple of our favorite vegan recipes to try out.
Easy vegan pasta lunch box filler
Some of the best vegan recipes are the simplest ones. A month back we shared an easy yet delicious lunch box pasta idea on our social media. Perfect to send the kids off to school with, or to fill your own lunch box. Below are the ingredients and method. Check out the video for an easy-to-follow walk through. You will need:
56g of pasta (we recommend penne or fusilli)
1/4 of a cucumber
5-10 cherry tomatoes
Half an avocado
Gosh! Beetroot Falafel
Flat leaf parsley
For the dressing:
1 tbsp olive oil
1 squeeze of lemon juice
1/2 tbsp balsamic vinegar
splash of water
salt & pepper to taste
Method:
Bring a pot of water to boil, add pasta of your choice, reduce heat and simmer for 9-11 minutes.
Drain pasta, let it cool and add it to your lunch box or container.
Chop your cucumber, cherry tomatoes, avocado and falafel. Add to the pasta.
To make the dressing, add your olive oil, lemon juice, balsamic vinegar, water and any salt and pepper you want to a small bowl and mix.
Once fully mixed, add to the top of your lunch box.
Finish by garnishing with your parsley and enjoy!
Gosh!'s Moroccan spring green wraps
This is a vegan recipe you don't want to miss. These wraps are an amazing way to pack yourself with fresh veggies without even realising it. Full of vitamins and minerals, this is a way to get lunch time right! This recipe serves two people and you will need: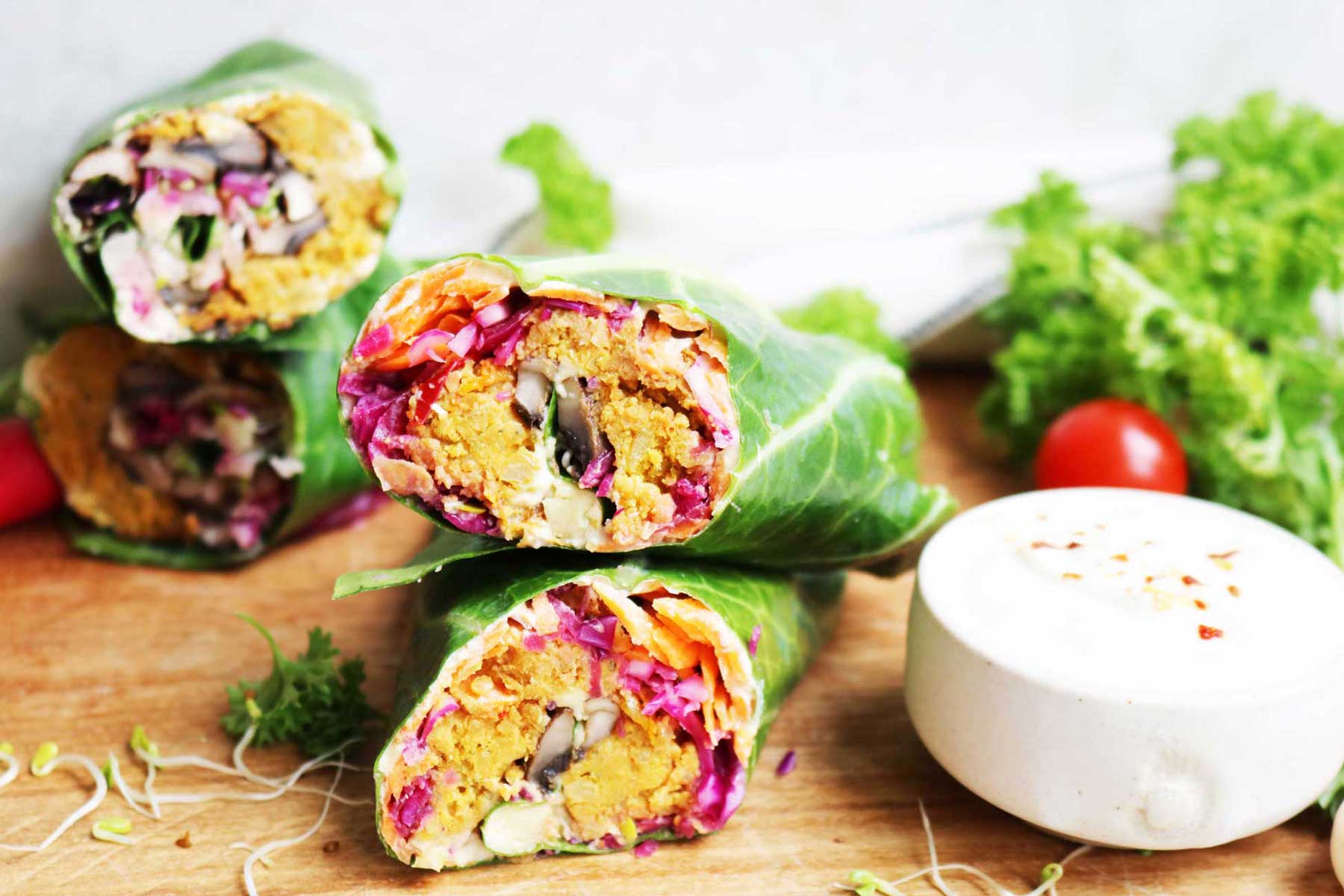 2 Gosh! Moroccan Spiced Bakes
7-8 chestnut mushrooms
1 carrot finely grated
About 1 cup of finely sliced purple cabbage
½ cup of sauerkraut
1 tablespoon of apple cider vinegar
1 tablespoon of lemon juice
2 tablespoon of tamari or soy sauce
1 fresh chilli finely sliced (optional)
A handful of spring green leaves
For the guacamole:
1 avocado
The juice of ½ lemon
Salt & pepper to taste
For the hummus:
1 can of drained and rinsed chickpeas
1 heaped tablespoon of tahini paste
1 clove of garlic
The juice of ½ lemon
½ teaspoon of cumin powder
Salt & pepper to taste
Method:
Preheat oven to electric 200°c/fan oven 180°c/gas mark 4
Add all hummus ingredients into a food processor and blend until smooth, for about 2-3 minutes. Set aside.
To prepare the cabbage slaw, slice the purple cabbage as finely as you can and place it into a bowl with the lemon juice, apple cider vinegar and salt. Massage it in with your hands. Set aside.
To make the guacamole simply peel and mash the avocado until you have a creamy consistency. Add the lemon juice, salt and pepper, and mix well.
Chop the mushrooms into slices and place in a pan with a splash of olive oil, tamari or soy sauce and the chopped chilli (if using). Cook the mushrooms on a medium heat for about 5-7 minutes until all the water has evaporated.
While the mushrooms are cooking place the Gosh! Moroccan Bakes in the oven for 15-20 minutes.
To assemble the wrap: cut the end of the spring green leaf so you end up having a kind of "square". With a sharp knife de-stem your spring greens. Spread the hummus on top, add three slices of the Gosh! Moroccan Bake, add a dollop of guacamole, some purple cabbage, the cooked mushrooms and the shredded carrot. Wrap the spring green as tight as you can, like a burrito. Cut the burrito into half and serve it with the leftover hummus. Irresistible!
Vegan dinner recipes
Vegan dinners are the best platform to let your creativity show. Kick out the bland and pack your evening meals with colour, nutrients and flavour. Below are two wonderful recipes for plant-based meals that you need to try.
Gosh!'s beetroot veggie burgers with yummy guacamole
This veggie burger feast is so simple and so scrumptious- bursting with nutrients and packed with flavour. A family favourite that you have to try this Veganuary.
4x Burger buns – we used Genius Brioche Buns
Smashed avocado
Beef tomatoes, sliced
Handful of lettuce or salad leaves
Gosh! Beetroot Burgers
Method
Use a bread knife to cut your bun in half
Place the leaves on the bottom half of the burger, followed by a slice of tomato, Beetroot Burger and a dollop of guacamole
Pop the top half of your burger on top and dig in
Courgette and Butternut Curry
A courgette and butternut curry with Gosh!'s sweet potato pakora bites is another sure way to win your family's hearts. This bake comes with irresistible aromas and is perfect for a weekend family meal. This meal serves 4 and you will need:
1 courgette, cut into medium chunks
½ butternut squash, peeled and cut into small/medium cubes
5 spring onions, finely sliced
1 thumb sized piece of ginger
1 garlic clove, crushed
1 30g bunch of fresh coriander and stalks – leaves picked, and stalks finely chopped
1 tbsp mustard seeds
2 tsp cumin
½ tsp garam masala
½ tsp turmeric
1x 400g tin of chopped tomatoes
1x 400ml tin of coconut milk
Juice of half a lemon
1 tsp brown sugar (or to taste)
Rapeseed/ sunflower / coconut oil
2 packets of Gosh! sweet potato pakora bites
We suggest serving your curry with rice, naan bread, vegan yogurt raita, chopped toasted nuts or coriander leaves.
Method:
Preheat the oven to 180C fan and line a large baking tray with baking parchment
Add your courgette to one half of the tray and the butternut squash to the other and drizzle over a little oil, salt and pepper. Sprinkle over about 1 tsp of garam masala and use your hands to rub it all together.
Place in the oven for 25-30 minutes until soft and charred at the edges slightly.
While the veg is roasting, start making the sauce. Heat about 1 tbsp of oil in a large saucepan over a medium heat and add the sliced spring onions, fresh ginger and garlic. Let it sizzle for about 5 minutes before adding the coriander stalks, mustard seeds and spices. Cook until the aromas of the spices begin to release, then add your tinned tomatoes and coconut milk and give it a good stir.
Place the lid on your saucepan, bring to the boil and leave to simmer on a low heat for about 20 minutes, while you wait for the veg to finish cooking. Stir in the lemon juice and a little sugar to the sauce.
Once the veg is cooked, add them to the sauce along with your sweet potato pakora bites and heat through. At this point you can taste the curry and season to your desired preference – you can always add more lemon juice and sugar depending on how you like it!
Serve with your chosen toppings and enjoy. This will keep well in the fridge for a few days, so why not make ahead for a super quick and easy 'fake-away' style night!
We hope our recipes have given you some inspiration to latch on to this Veganuary. If you're after more easy vegan meals and quick dinner ideas, you should check out the recipe section on our website, or head over to our socials!